SMC group PROFILE:
Suning Mings Co., Ltd. (SMC) established in year 1988 in New Taipei City Taiwan, cooperate with Hua Ling Nameplate Co., Ltd (HLC) and"King Printed Plastic Corporation"as an enterprise group. King Printed Plastic Corporation is located in Manila, Philippines. SMC group also set up two branch offices in Guangdong Province, China, one is in FoShan City and another is in Dongguan City to give better service for clients in the region. SMC group have thirty years of professional in manufacturing assorted Nameplates / Overlays. The specialties also include the Lens Ring and Frame of the Digital Camera、Mobil Phone、Projector、USB Drive and GPS. SMC group have well machinery equipments and the integrity work flow path to produce the best products. In addition, SMC group are proved by ISO- 9001:2008、the America UL- (MH28673)、QC 080000 IECQ HSPM. To seriously monitoring the product's quality and to satisfy clients need are the successes of SMC group.
SMC group COMMITMENT: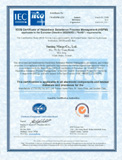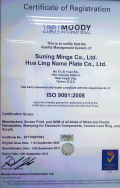 To the clients, SMC group always have to give 100% efforts to satisfy clients' needs. All of the existing clients know that SMC products possess good quality control management and able to deliver the products worldwide. SMC group have the honor of doing business with all the clients and will forward to an upper level of business every year and years.
SMC group MILESTONE:
H.L.C. established in September, 1980. The business produced all kinds of plastic and metal nameplates and clock & watch components.
S.M.C. established in August, 1988. The business manufactured components of household appliances, ie: panels、plates、knobs、nuts、key & switch.
De Zung Manufacturing Corporation established in Manila, Philippines in 1993. The equipments include "Punching" & "Polishing" & "Printing" & "Anodizing" & "Engraving"
H.L.C. had the honor to garner the America UL- (MH28673) certificate in year 2002.
Produced camera cell、lens ring、power key、switch and all kinds of plates、aluminum frames for Foxconn Technology Group) in year 2002.
Established branch office in FoShan, Guangdong in year 2005, to provide better service for the clients in the region.
Officially acquire for ISO- 9001:2000 certificate in year 2006.
Officially acquire for IECQ (International Electronic Commission Quality Assessment System for Electronic Components) Certificate of Hazardous Substance Process Management (HSPM) which is applicable to the European Directive 2002/95/EC ("RoHS") requirements in January 2008.
Established branch office in WuHan in June 2008. S.M.C. had a honor to win "Best Green Partner Award" from Foxconn in September 2008.
Added new CNC Automatic Lathe and air pressure punching machines, the daily production can be more than 200K pieces. Also decorated the Printing Room to a Hundred-Thousand Low Dust Clean Room in 2009.
Changed name of Manila Facility to: King Printed Plastic Corporation in 2010.
Produced global brand of camera cell、lens ring、power key、switch and all kinds of plates、aluminum frames for Ability Enterprise Co. in year 2010 and established branch office in Dongguan City.
SMC group PROFESSIONS:
Metallic & Plastic Nameplates
MYLAR, PC, and PP Print
Digital Camera, Mobil Phone, USB Drive Nameplates, Lens Ring
Self-Adhesive Electrograph, Gauzy Metal (assorted Logo)
Acrylic Window Print, Precision Screen printing
Electricity Casting Overlay
Flexible Printed Circuits, Membrane Switch
The molding tool development designs
Stamping (Punching) for electronic components
Assembled with Aluminum, Stainless Steel, Iron, and Copper Hardware and Stand-Offs
SMC group MAIN CUSTOMERS:
Foxconn Technology Group (Hon Hai Precision Ind. Co.,Ltd)
Ability Enterprise Co., Ltd.
DXG Technology Co., Ltd.
Phison Electronics Corp.
LIFE TECHNOLOGIES CO., LTD.
KYE Systems Corp.
AVerMedia Technologies Inc.
AEWIN Technologies Co., Ltd.
XAC Automation Corporation
RANGER ELECTRONIC COMMUNICATION INC.
Fiber Logic Communications, Inc.
SIMPLO Technology Co., Ltd.
Ichia Technologies Inc.
Chicony Electronics Co., Ltd.
Microtek International, Inc.
Tekom Technologies, Inc.
TECO Electric & Machinery Co., Ltd.
Teamsharp Spacetech, Inc.
Applied Resources Ltd.(a subsidiary of Pivot International.)
Asia-Optical Co., Inc.
HOLUX Technology Inc.
Pretec/ C-ONE Technology Corp.
Uniform Industrial Corp.

Address:No.79, Siyuan Rd., Xinzhuang Dist., New Taipei City 242, Taiwan (R.O.C.)
Tel:+886-2-22770546 ~ 8 Fax:+886-2-22770549 E-mail:joechuang@smcgroup.com.tw